Caroline Glick's Jihad
Contents Of This Special Section On Obsession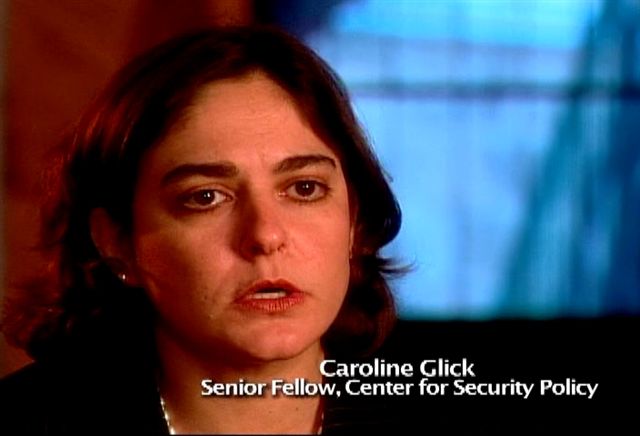 According to Caroline Glick, there is a "totalitarian jihadist ideology which is ascendant throughout the Islamic world." The Israel-based journalist lists this as one of the major worldwide threats. The other threats include "Iran's quest for regional dominance" through proliferation of nuclear weapons, and "the West's cultural insecurity and malaise and increasingly, its self-hatred," she says.
Glick grew up in Chicago (in a neighborhood she now calls "anti-American"), received a bachelor's degree from Columbia University and a master's in public policy from Harvard University's Kennedy School of Government. She first moved to Israel in 1991 and returned in 2000. Glick is the deputy managing editor of the Jerusalem Post, where she writes two weekly columns. She served as assistant policy adviser to former Prime Minister of Israel Benjamin Netanyahu and is the Senior Fellow for Middle Eastern Affairs at Frank Gaffney's Center for Security Policy.
Glick has advocated unilateral bombings inside Iran and the killing of that country's nuclear scientists. Rejecting diplomacy, she has written: "Today, there is only one way to prevent Iran from acquiring nuclear weapons. Israel must bomb Iran's nuclear installations. ... All an Israeli air strike against Iran's nuclear facilities will do is set its nuclear program back for a couple of years."
In a separate interview, Glick stated: "Killing Iran's nuclear scientists will make it impossible for Iran to rebuild its nuclear weapons program for the foreseeable future." here.
Her comments on the presidential election and American left have likewise been incendiary. It is her opinion that the "Arab world" prefers Barak Obama to John McCain because "they view him as sympathetic to their war against Israel and their hostility towards the U.S. and the rest of the West. ... Obama is a quintessential leftist who thinks that war can be wished away by blaming the U.S. for its enemies' hatred and malicious designs. This is the type of person who will push very hard not only for America to stand down from the war and ask the Iranians for forgiveness while enabling them to get the bomb, but will blame Israel for the Arab world's refusal to accept its right to exist."
In 2008, she wrote a column praising the controversial pastor John Hagee. In discussing the annual conference of AIPAC, the pro-Israel lobby, she noted the absence of Hagee as a speaker: "John Hagee ... is not on the program. And this is a horrible thing. AIPAC's decision to shun Hagee says something terrible about the state of American Jewish politics today. Quite simply, Hagee has become a victim of liberal American Jewish leaders' decision to place their leftist political preferences above their concern for Israel's survival and for the well-being of American Jewry." In defending Hagee's history of disparaging statements about Islam, Judaism and Catholicism, she made comparisons to Obama's former pastor Jeremiah Wright and lashed out at supporters of a Palestinian state.